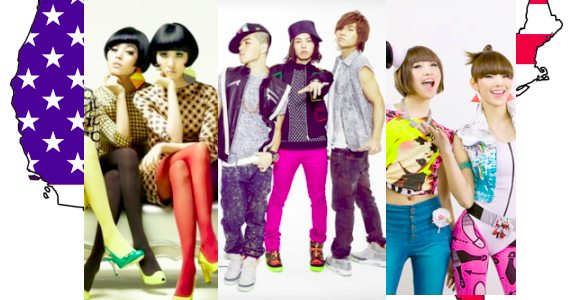 Let me start this out by saying: As a Korean, I love 90% of the idol groups. I've learned to find the special qualities in each and every one of them. You can see that when you make it in Korea, you make it in Asia. That is called hallyu, the Korean wave. This is the idea of South Korean culture spreading throughout the world.
As a New Yorker, when I come across another Asian American, they usually know one or two Korean singers. Most of the time, they know more. But with all my Caucasian, Latino, African American, etc. friends, they have no clue who these Korean singers are. Don't get me wrong, them knowing Korean idols would be even weirder than not knowing them but have you ever wondered which idols they would actually like?
I've introduced my friends to the Wonder Girls and the response wasn't bad. Being surrounded by people who love to listen to rock, it's hard to throw bubbly k-pop at their faces, but the catchy tunes do get stuck in peoples' heads.
Getting a song stuck in someone's head is easy. You don't even have to like the song. Getting someone to like an artist, that's hard. That person has to respect the artist's songs, lyrics, personality, genre, and so much more.
If you are a frequent reader at allkpop, you probably know that the
Wonder Girls
have been trying hard to make it in America. They've toured with the Jonas Brothers, which is a huge deal and they are releasing their English album, but then what? Do the Wonder Girls have what it takes?
Let me break it down for you.
Idol singers from Korea can all do two things: sing and dance. Some are better than others, but they all have the basics down. But what qualities do they have, that could get them a place on the billboard chart? Let's take a look.
Wonder Girls
Pros:
-They have 5 members, which is not too many.
-Their musical genre is pop. America loves pop, so that isn't really a problem.
-They can sing and dance. There are not many dancing groups in America, so it could be refreshing and new.
-They have a rapper, which is really appealing to the hip hop scene also.
-Their producer is
JYP
, an intelligent man with connections and a plan.
-
Yenny
is a songwriter.
-Really great looks and they're adorable.
Cons:
-They rely a lot on
Sun
because of her years of experience.
-They are not fluent in English.
-They need to still work in Asia. For example, they have a concert in China coming up. How can they pursue their career in America if they don't concentrate on America?
-They don't write all their music. This is a big thing in America. Many people hold feelings against artists for not being original. People lose respect for artists over lyrics.
2NE1
Pros:
-They're new but they've already had 2 number 1 songs.
-They can sing and dance.
-They have two skilled rappers.
-They have a small amount of members which is less confusing for people in America.
-They have a
Black Eyed Peas
vibe.
-They sing hip-hop/pop music which is widely popular in America.
-Their song-writer is
Teddy
, he was offered to write for
Lady GaGa
.
-
Park Bom
is pretty much fluent in English. Whereas
CL
seems to have no trouble with pronunciation when she raps.
-They have adorable looks and personalities.
Cons:
-Not all of them speak English.
-They are so new, they still have to work a lot more in Korea to make a foundation before moving on.
-They don't write their own songs. Yes, Teddy is like family to them but still, it's not the girls composing.
Big Bang
Pros:
-They are 5 cute guys.
-They can sing, rap and dance.
-They sing hip hop music.
-They're highly influenced by American music.
-
G-Dragon
writes their music.
Cons:
-As much as I love Big Bang, I'm going to be real here. G-Dragon could get made fun of in America for being "gay". I hate that word more than anything and using it makes me cringe but it's true. People are rude and have no problem judging others on the way they dress of style themselves.
-None of them really speak English.
-There are more Asian woman-American guy couples than Asian guy-American women couples. This shows that Asian men don't appeal to Americans as much yet. Boy idol groups rely on girls to drool over them, and in America, that may not be the case.
I only included these three groups because, for the time being, the other groups don't seem to have any plans to come to America.
TVXQ/DBSK, SNSD, Super Junior, Kara, 4minute,
etc. don't seem to be aiming for the states. Some of them have just too many members, some of them don't sing the genres Americans like, and some of them are just starting out.
I was thinking about including
f(x)
but it's too soon to tell. They have 3 fluent English speakers, a rapper, pretty faces, amazing dancing skills, and great singing skills, but they have barely worked in Korea yet. It's even too soon for me to judge 2NE1, so for f(x), I can't really say much as of now.
I was also planning on talking about
2pm
, but with the loss of their leader and all the drama, it wouldn't be right to talk about their future plans at the moment. I don't think anyone really knows what will happen with them right now and I didn't want to be the one talking about their plans as if I know anything.
It's hard to make it in America. There are so many things you should have when you come here. You could make it from one hit song or you might have to work your butt off to get to the top. But no matter what, you have to start from the bottom and be humble for the opportunity.
As a Korean, I fully support the Wonder Girls and want them to succeed, so they could represent not just Korea but Asians as a whole.
You need power to make it in America and you need to be unique. Although the majority of Korean groups aren't unique, a few of them still seem to have what it takes. There will come the day when we will be able to see a Korean idol group on the billboard charts. They are too big a phenomenon to not reach America, it's just a matter of time.
Source: allkpop