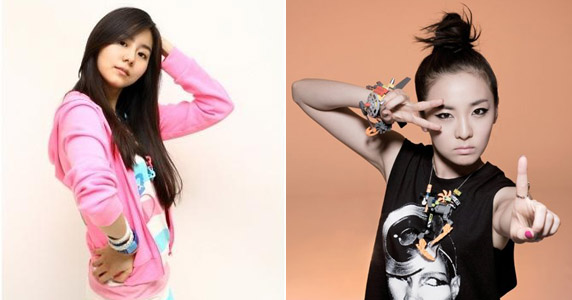 2NE1's Sandara Park and After School's UEE will be guests on an upcoming episode SBS's Family Outing.
They haven't even filmed their episode yet but their appearance has been confirmed after the production team had invited them on. Jang Hyuk Jae PD said, "The two of them will come on the show. We will film sometime in this October (next week)."
Sandara Park has gone on only one variety show so far, SBS's Strong Heart (Kang Shim Jang), with her fellow 2NE1 members which will air on the 13th. But Family Outing will be the first time that Dara gets to be on a variety show alone. UEE on the other hand has a lot of variety show experience including We Got Married, Star King and more.
It was also announced that a new side of Sandara will be shown but we already know pretty much about her wacky personality through her regular me2Day updates. People are anticipating on what UEE and Sandara will bring to the show since this will be the first time that Family Outing has 2 women guests on at the same time.
Who's excited for this episode? I know I am. UEE doesn't seem to be stopping her busy schedule anytime soon and Sandara and her crazy self with newly recovered DaeSung? There's more to look forward to than Kang Shim Jang now!
Many thanks to lah for the tip.
Source: Allkpop
_________________
[center]
www.twitter.com/Sheng07
[/center]