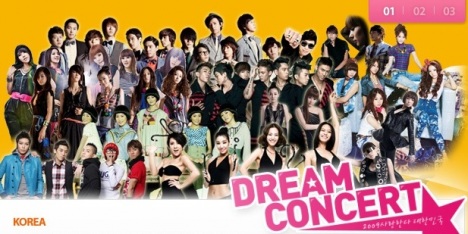 The 15th Dream Concert this year is held on 10th October in Seoul Worldcup stadium at 6.30pm.
For Dream Concert 2009 this year, we have 17 performing artiste teams =
Big Bang, Super Junior, So Nyeo Shi Dae, 2PM, SHINee, Jewelry, 4Minute, 2NE1, KARA, ChaeYeon, WheeSung, Park HyoShin, T-ara, f(x), Supernova, Kim TaeWoo, 2AM, MC Mong
etc.
And KBites follow through the whole concert with photo postups.
2PM performed on stage as 6 members for the first time.
They performed 'Again & Again' for the ending of the first part of the concert. When they went up to perform, fans started shouting
'Park JaeBum'
and when they were performing fans started shouting 'Park JaeBum come back'. Even though they did encouraged the group on when they went on the stage, Park JaeBum's name was shouted during JaeBum's part during the performance.
Super Junior M performed the song 'Super Girl' for the first time
f(x) performed 'Chocolate Love' for the first time
T-ara and Supernova performed as 12 members for 'TTL'
SHINee performs 'Juliette'
WheeSung and Park HyoShin special stage of 'Heal The World'
4Minute performed 'Muzik'
Jewelry
2AM
The MCs – Song JiHyo and Kim HeeChul
So Nyeo Shi Dae
Super Junior performs 'Sorry Sorry' without KangIn
Big Bang performs as 5 members, joined by DaeSung, 60 days after DaeSung's car accident
KARA with 'Mister"
MC Mong
GDragon with 'Heartbreaker' performance
2NE1 performs 'I Don't Care'
The audience crowd
Source: kbites