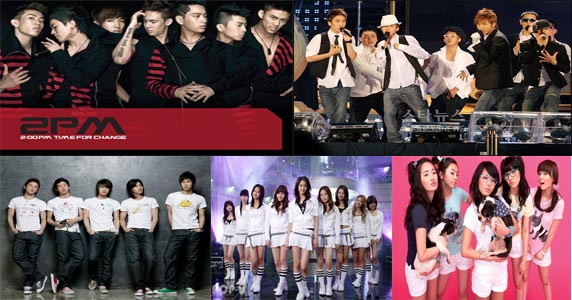 Korean Idol groups are not just important in the entertainment biz, but in daily life as well. They are role models, which is why they are called "idols" and people of all ages in Korea are influenced by them in one way or another. Many fans of idols wonder how they become so famous and how they stay on top.
Below are the few ways these people find their claims to fame.
1. DOCUMENTARIES
Big Bang and 2PM are two of the most popular boy idol groups in Korea and both started off being featured in documentaries. These documentaries showed how the members train, how they got in the agency, if they had talent or not, and showed audiences and possible fanbases their personalities before debut. Documentaries give the future idol groups many fans before their actual debut, which helped them be successful when they started promoting, instead of beginning as nobodies.
2. THE AGENCIES
Of course, many famous idol groups did not have documentaries. Even if they start completely fresh in the entertainment business, the agencies can make the magic happen. Agencies are crucial to becoming successful. There are many in Korea, but if you are in the 3 most famous agencies in Korea, which are JYP Entertainment, YG Entertainment, and SM Entertainment, you are almost always guaranteed publicity. These 3 agencies know how to pick the best out of the best in their auditions and train them to fight for the top spot in the music industry.
3. PRODUCERS
Producers play a huge role in maintaining an idol's fame. There are many famous hit producers in Korea, such as the Brave Brothers and E-Tribe just to name a few. Producers must make it so that the song doesn't sound plagiarized and catches the ears of fans everywhere. Ever hear the chorus of "Sorry Sorry", "Gee", "Nobody"?
4. TIME OF DEBUT
If you are a newcomer to the scene and you debut when there are many veteran groups performing, chances are you are not going to get much attention. Timing is crucial and it's always wise to debut when there's the least amount of noise.
5. LOOKS
Although talent has overcome looks these days in the Korean music industry, as witnessed through a number of recent popular groups, good looks definitely do not hurt. Because Koreans like to judge people on their looks, (small faces, raised noses, big eyes, white complexion, etc.) it's almost a requirement for celebrities to be beautiful.
Credit(s): Allkpop