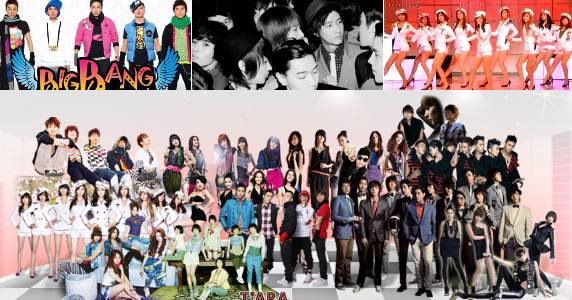 It's that time of the year again - the star (& scandal) studded Dream Concert is less than a week away and the excitement is only growing! With its reputation as arguably the biggest kpop concert of the year, this annual event's got an awesome line-up of around twenty of Korea's top artists.
As for the artist that is garnering the most excitement, thirteen-member Super Junior takes the crown by a landslide:
RESULTS
1. Super Junior = 45 % (19,117 votes)
2. Big Bang = 21% (8,977 votes)
3. SNSD = 13% (5,593 votes)
Runner Ups:
SHINee (3,810 votes)
2NE1 (1,785 votes)
Chaeyeon (1,507 votes)
f(x) (893 votes
2PM (371 votes)
KARA (359 votes)
On top of those guys & gals, we'll also see A-list entertainers like Wheesung, Jewelry, 4minute, T-ara and MC Mong, Park Hyoshin and more grace the stage.
ELFs should definitely anticipate this concert, because SuJu has more than a stage performance scheduled. Earlier this week, it was confirmed that Cinderella Heechul will be returning as MC with Song Ji Hyo. Furthermore, it looks like we're getting more than just thirteen for Super Junior - project group Super Junior M is set to perform at this concert as well. Their Chinese hit "Super Girl" has been climbing charts in the past month and is extremely popular both at home and abroad, and this will be SJ-M's first official performance in Korea. There's been no mention of an actual debut on the Korean music scene, but this performance alone is undoubtedly exciting for ELFs all around!
With Dream Concert's pockmarked history of violent incidents, let's just hope we don't see the resurgence of the infamous Only 13 movement or the SNSD "Black Ocean" from last year... With the lack of TVXQ & censorship of 2PM's performance, it looks like SBS doesn't want that either. Despite all of September's shortcomings and scandals, many viewers are hoping for a smoother concert this year.
Remember to tune in to SBS at 6:30 KST on Saturday! Whether Dream Concert stays drama-free or not this year, allkpop will be following it every step of the way.
Credit(s): Allkpop
Source: Newsen