With the recent success of their two singles "Fire" and "I Don't Care", 2NE1 has garnered much love and fan support from their audience. However, 2NE1 never had an official fan club...until now!
2NE1 has gained a lot of popularity since their hyped debut and then dominated the charts this summer with their monster single "I Don't Care"; one begins to wonder why this lovely four-some has not gotten an official fan club yet.
Many fans called themselves "2NE1 VIP's", a play on the fan club of 2NE1's seniors, Big Bang. However, there is no longer a need to use that name anymore since 2NE1 now has its very own official fan club! 2NE1's Fan Cafe on Daum recently posted a message telling fellow supporters that they have decided on a name for their official fan club. The official name for the fan club is Black Jack, a play on the popular card game as well as the name of 2NE1. The message further states that at the Asia Song Festival, the fan club wants fellow Black Jacks to support the girls of 2NE1 at their first concert by screaming aloud their name.
The name sounds pretty legit. "WE ARE THE BLACKJACKS." It has a nice ring to it. However, I've started thinking about what fans will call the other debuting groups and I'm starting to worry. With names like 4Minute, f(x) and most recently HAM, I wonder what creative titles fans will give to those official fan clubs.
Original message posted from 2NE1 Fan's Cafe on Daum: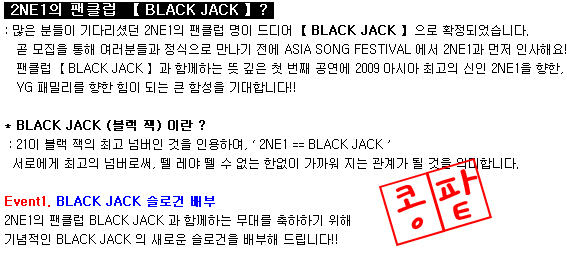 Credits: YGLadies, Special Thanks to John Moon and Julie Choi for rough translations. omgkpop