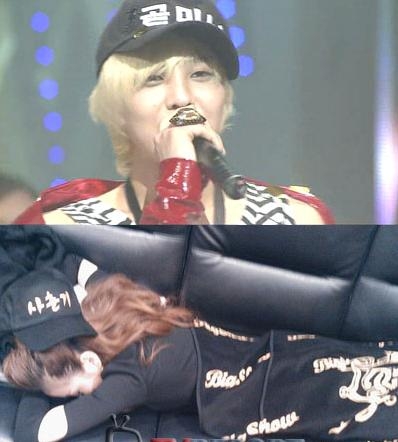 YG artistes GDragon and Sandara Park are recently in the spotlight for their comical caps.
GDragon was seen wearing a cap with the words 'Got-mi-nam' or short of 'becoming a pretty boy at once' when he went up on stage to receive his 2nd Mutizen on 13th September.
Also on the same day, 2NE1 Sandara Park uploaded a photo of herself lying on the sofa wearing a cap which wears 'puberty stage' on her me2day account.
With that netizens say, "YG singers have a fun sense of fashion, and I like it".
Sandara wrote on her me2day account, "Even though there was the first experience of first broadcast, it is our first time doing last broadcast. Our members really practise hard and put in much effort. A round of applause~ After the performance, we hugged each other, reluctant that this is the last performance. From tomorrow, we will resume being trainees. Hwaiting!"
2NE1 has ended their 1st minialbum promotions on 13th September and will be preparing for their upcoming album in October.
—-
Meanwhile, Sandara Park's solo debut song 'Kiss' has taken GDragon's 'Heartbreaker' off music charts.
The song 'Kiss' is #1 up on Monkey3 chart for the 2nd week of September, taking GDragon's 'Heartbreaker' off the #1 spot on the chart after 3 weeks.
The song was revealed on 7th September and it has received overwhelming responses, going up to the #1 spot on real time charts, and daily charts. And it is considered a feat given that Sandara will not be performing the song on broadcast shows.
Also, the MV to the song 'Kiss' also features actor Lee MinHo and the 2 had locked lips for more than 100 times for the filming of the MV.
Rest of the Monkey3 chart results:
1. Sandara Park 'Kiss'
2. GDragon 'Heartbreaker'
3. Baek Ji Young ft 2pm TaekYeon 'My Ear's Candy'
4. 4Minute 'Muzik'
5. Kim Tae Woo 'Love Rain'
6. Davichi 'Hot Stuff'
7. Outsider, MC Sniper, Horan 'Heart Attack'
8. Jewelry 'Vari2ty'
Source: Kbites