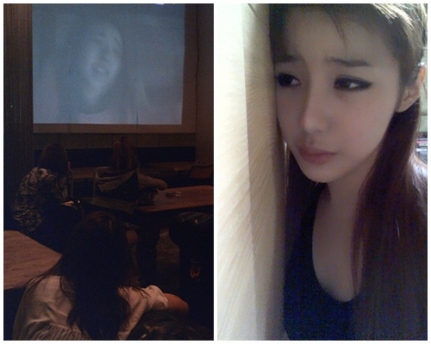 2NE1 member Park Bom cries at the last episode of 2NE1TV.
The last episode of 2NE1TV was aired on 9th September. That day, the girls were doing a thank-you video for the production team when the eldest unnie Park Bom and Sandara Park had gone in tears. Their little sisters CL and MinJi had comforted them, but tears just kept running for Park Bom.
And at their last-episode party, the girls have come together with the production team to watch the last episode. And seeing herself crying on TV, Park Bom teared again saying, "I'll miss it".
Meanwhile, the girls also posted up thank-you messages to the 2NE1TV production on their me2day page.
They wrote, "They not only prepare our characters but also listens to us when we are going through tough times and are tired. We are very thankful to 2NE1TV", "Even though it was for a short period of time, because of 2NE1, the vacation was a fun one" etc.
Gong Min Ji also said, "If it wasn't for 2NE1TV, I wouldn't have a reason to go to NolRiDongSan. I'm very happy to meet my friends."
Choi PD of the show said, "It is a shame that we have not get to know all about 2NE1. Very thankful to these friends who have worked hard. Even though they are young, they are very matured."
Video of girls' thank-you messages to the production team
At their last-episode party:
Source: Kbites