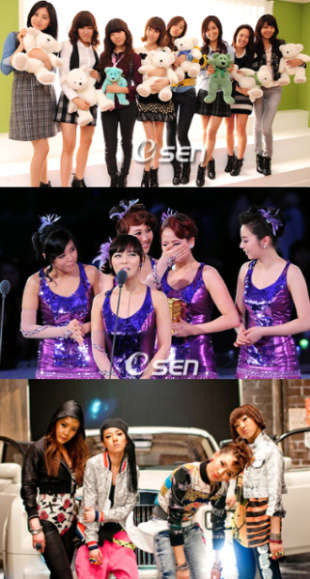 Due to the recent increase in the number of records competing for a spot on the music charts, U.S. company Music Intelligence Solutions designed a program which analyzes all the attributes of a song such as rhythm, tempo, pitch, chord progression, etc., to determine its success probability on a scale of 0-10. Depending on how high the score is, the song can win a Silver, Gold or Platinum Auddy. They call it the Hit Song Science.
The software looks for mathematical patterns in the particular music and, if they're not there, the song is not likely to achieve much fame or fortune. The computer bases such preeminent judgments on the so-called "Music Universe", which contains all the music that has been composed. However, having similar patterns doesn't mean you're following existing trends and fashion. Hit Song Science can also recognize new styles -- after all, a pleasing melody is a pleading melody.
The results for hit Korean songs were as follows:
SNSD - Gee | 6.7 | Silver Auddy
Kim Choo Ja - Empty Sky | 6.6 | Silver Auddy
Wonder Girls - Nobody | 7.1 | Gold Auddy
Kim Gun Mo - Reason | 7.8 | Platinum Auddy
2NE1 - Fire | 7.6 | Platinum Auddy
Kim Gun Mo - Wrongful Meeting | 7.4 | Platinum Auddy
I found the results to be quite accurate as SNSD's "Gee", Wonder Girls' "Nobody", and 2NE1's "Fire" created a wave not only in Korea, but in international states as well. Famous American blogger Perez Hilton has even promoted their music videos in his blog, drawing even more attention to these k-pop girl groups.
Wonder Girls, otherwise known as "the nation's little sisters", rounded up yet another retro fever with their song "Nobody." The simple yet catchy choreography had everyone clapping and pointing their fingers, gathering enough momentum for them to score two Daesangs in 2008 -- becoming the second girl group in the history to do so since Fin.K.L in 1999. Having toured alongside the Jonas Brothers, Wonder Girls are making a name for themselves in America as the first potential Korean group to breakthrough the U.S. market.
This year, SNSD swept the nation with the "Gee" Syndrome, as they held the record for the longest-running #1 on music portal M.net for 8 weeks, surpassing the previous record of 6 weeks set by the Wonder Girls' "Nobody". They also broke the record on KBS Music Bank for winning #1 for 9 consecutive weeks. Their first win for their next single "Tell Me Your Wish (Genie)" was obtained on KBS Music Bank, having set the record of the most points in Music Bank history with 17,995 points, beating their seniors DBSK who got 16,404 for "Mirotic" the previous year.
A new female quartet group entered the k-pop scene during the latter half of 2009, creating a massive hype even before they debuted. Labeled as the "female Big Bang", 2NE1 quickly rose to popularity with their hip-hop roots and energetic performances on stage. Their concept and music are also strong points that helped . Their singles "Fire" and "I Don't Care" have equally become hits on and offline charts, an impressive achievement for rookies who debuted only in May.
SNSD, Wonder Girls and 2NE1, who are continuing the girl group streak, are energizing not only the k-pop industry, but spreading music to various parts of the world.
On a side note, Kim Gun Mo's singles received high scores, proving his commercial success as the record for the biggest selling album in Korea, which sold over 2.8 million copies. His type of music was incredibly popular back then, especially among listeners my mom's age. In fact, the only CD she owned was by him and she put them on repeat during long car rides that lasted 2398572935 hours. Talk about brainwash...
Credit(s): Allkpop