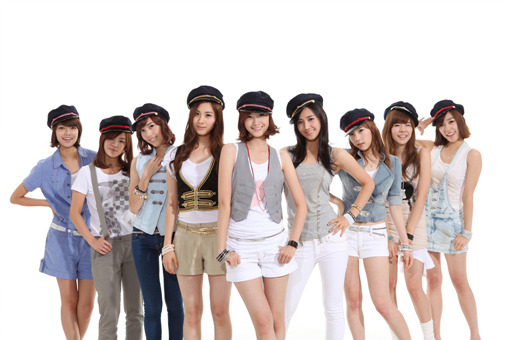 At the start of the year, Girls Generation-fever hit the nation. Since then, heated up by the emergence of new idol groups like After School, 2NE1, and 4Minute, the girl group scene is flourishing. Having passed two years since their debut, Girls Generation dominated the music industry in the first half of 2009. The title song, "Gee," topped KBS' music chart for nine consecutive weeks, which was an unprecedented record for female singing groups. Also, 72,000 albums were sold, second highest among all contemporary singers. Consisting of nine members aged from 18 to 20, Girls Generation has attracted a mostly young following.
The groups' next title song, "Genie," once again confirmed their top status. The song received an explosive reaction from fans. If their earlier song, "Gee," was a girlish approach, the new song emphasized mature lady images out of the nine girls.
New female groups joined the wave and fired up the atmosphere further.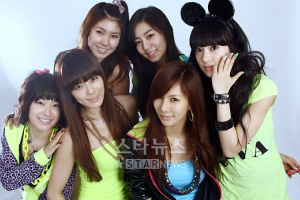 In January, After School, adopting the tried-and-tested concept of school girls, introduced "AH," their debut song. Their hot gym clothes as stage outfits, matched with electric hip-hop music captured K-pop fans' attention. Before releasing their second single album, the team recruited new member E-ui, adding freshness and vivacity to the group. Then, the second song, "Diva" quickly joined the top K-pop line.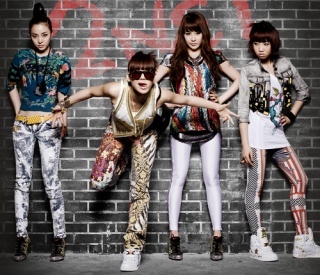 In May, girl group 2NE1 came into the spotlight (some say as a woman version of Big Bang). Nearly 10,000 mini-albums were bought in first three months since their debut. Title song "Fire" set records and their following song, "I Don't Care," is currently continuing the stream, smashing charts for five consecutive weeks. In July, it was the most downloaded song, beating out "Gee" by Girls Generation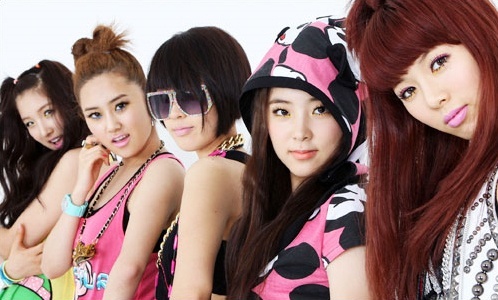 Teenage girl group 4Minute debuted in June, stepping into the limelight even before they hit the stage,
4Minute enthralled TV viewers with their stylish and "candy funky" retro music. Their colorful outfits revived even retro fashion. On Aug. 20, the group released their first mini album, "For Muzic."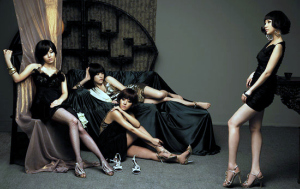 Having recently made their comeback, Brown Eyed Girls and Kara are carrying on the girl group fad.
Brown Eyed Girls initially drew fans' attention for their sensational music videos. Then, their so called "arrogant dance," was unleashed on stages across the country for the song "Abracadabra," of their third album. The song topped M.net music charts for three weeks, for the first time since their debut in 2006. "Unlike other idol groups, Brown Eyed Girls has climbed their way up the peak by themselves," said the agent executive at a press conference.
Using local popularity as a stepping stone to still greater fame, some girl groups are attempting to make an advance overseas.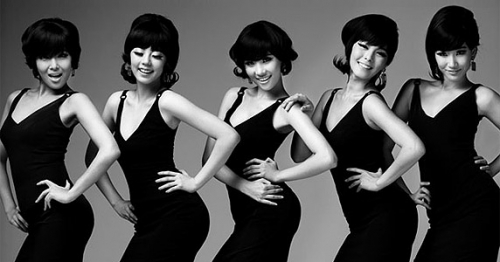 Following Rain, BoA, and Se7en, this summer, Wonder Girls made their debut in the United States, with the English version of "Nobody," a mega-hit song in Korea. Last month Wonder Girls finished tour openings for Jonas Brother's concerts, in front of tens of thousands of people each night. Appearing on a national TV talk show and a Disney radio channel, the group is increasing their recognition on the continent. The group even topped iTunes top 100 chart, coming in at 78.
Some groups are incorporating foreign-educated or foreign-born women into their acts.
In Girls Generation, Soo-young studied in Japan and Hyo-yeon studied in China. Tiffany and Jessica are American-born who came to Korea seeking stardom.
A member of the group Kara is also from North America. Her not-so-perfect Korean appeals local fans as cute. It is said the group will expand abroad in the second half of 2009.
4Minute is also getting ready for their international debut. According to a phone interview with an executive of CUBE Entertainment, 4Minute has begun hammering out plans to expand into other East Asian countries. "Wonder Girls' successful debut and performances in United States will be a good example for many local girl groups seeking a U.S. debut," said the executive.
The golden days of girl groups seems to just beginning.
Source: The Korea Herald