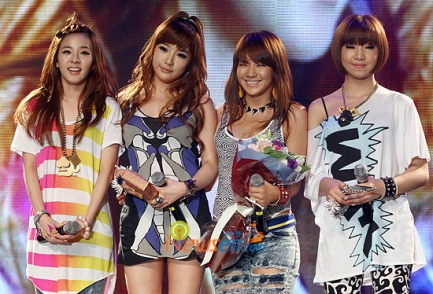 2NE1 has revealed their hidden talent through broadcast programme.
2NE1 was on KBS 2TV 'Entertainment Weekly' aired on 22nd August in an interview and when asked by reporter Kim TaeJin about their ability in foreign languages they said, "We know 6 foreign languages from Tagalog, to French, to English to Japanese."
And in the interview, Sandara Park introduced herself in Tagalog, CL in French and Gong MinJi in Japanese language.
Also the girls talked about each members' role in the group – Sandara is the atmosphere-maker, Park Bom is the one in charge of aegyo (acting cute), and leader CL is the 'omma (mother)', and youngest member MinJi is in charge of roasting bread in their dormitory.
Member Sandara Park also talked about their broken Music Bank trophy which she had posted the photos to online, "The production team has came and contact us telling us 'We will fix it' after knowing that the trophy became 2 pieces."
Credit(s): Sookyeong
_________________
[center]
www.twitter.com/Sheng07
[/center]