Sandara Park says she will come back to Manila with 2NE1
by Patricia Ramirez | August 20, 2009 8:20 AM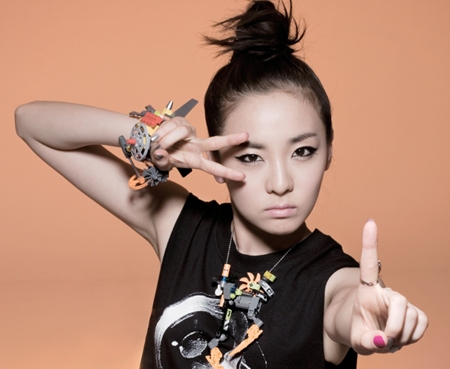 Sandara Park could not believe the warm welcome she received during her three-day vacation in Manila last week. Not only did fans from her Star Circle Quest days know of her stint as a member 2NE1, one of Korea's fastest-rising girl groups, but also people on the street as well. She was surprised to hear even men singing their second single, "I Don't Care" on the street when they saw her. "Nakakagulat talaga. Hindi ko akalain na kilala na pala kami talaga dito," she said with a shy smile.
2NE1 has been getting a lot of attention in the country because of people's renewed interest in the Pambansang Krung-krung ng Pilipinas' career abroad. Their song "Fire" has climbed to the top of local hit charts on music channels and various radio stations. Sandara was pleased to say that she and her group will be returning to the country soon to do some shows. "Hopefully, makabalik ako agad dito kasama sila. Sana matupad ko na ang dream kong makapag-concert sa Araneta (Coliseum)!" she said with a laugh.
Although Sandara mentioned that they also have plans to conquer Japan like Big Bang, their group's male counterpart in Korea, she has big hopes that they would also be doing rounds of other Asian countries. She also said that fans have a lot to look forward to from 2NE1 including clothing endorsements, concerts, and their full album. Sandara also said that she's also open to doing acting again, like her stint on Return of Iljimae but right now, her priority is her group 2NE1. "Pero who knows 'di ba? Basta abangan na lang nila," Sandara added.
When asked about the three other members of 2NE1—CL, Minzy, and Bom—Sandara has only praises for them. Living with the three girls in one apartment for more than a month now, Dara (as she is now called in Korea) said that they give each other encouragement, something that is really important during this period in their careers. She describes CL as a true friend and their leader who sometimes acts more mature than her even though she's older. Bom, on the other hand, is really serious about singing and healthy stuff. As for Minzy, Sandara described her as the best dancer in the group. And as the youngest member, Minzy often emphasizes that she doesn't want to be treated like a kid but wants to be on equal footing with the rest of 2NE1.
Before the end of her brief chat with ABS-CBN.com, Sandara admitted that she really misses the Philippines and hopes she has more time to spend with her friends the next time she comes for a visit. She also thanked everyone who gave her and 2NE1 gifts (Dara brought home three additional suitcases filled with presents and pasalubong). She emphasized that she will never ever forget Manila and will always treat the country as her home.
Credit(s): abs-cbn