Joseph Bitangcol renews bonds with ex-girlfriend Sandara Park on her recent visit.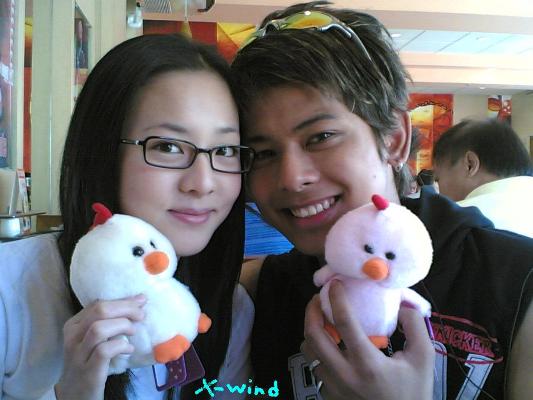 Recently, Sandara Park known as the "Pambansang Krung Krung ng Pilipinas" during her Star Circle Quest Days visited the Philippines. She came back for a short break to see her old friends back when she was a celebrity there.
Now, Sandara is starting get more popular in her country South Korea. She is now known as Dara from the girl group 2NE1.
Before she left the Philippines, the breakup between her and Joseph Bitangcol became a big issue.
SCQ Reunion
PEP (Philippine Entertainment Portal) was able to catch up with Joseph Bitangcol on the 17th of August, when he dropped by a birthday party of a movie writer and the president of the Philippine Movie Press Club known as Roldan Castro.
Joseph told PEP about what happened during the SCQ Batch 1 reunion where she met Sandara and the other batch members like Michelle Madrigal, Errol Abalayan, Raphael Martinez and Neri Naig. Roxanne Ginoo, Joross Gamboa and Melissa Hicks werent able to attend but he met up with them before the reunion.
"As i arrived at the venue for our reunion, i felt excited because I havent seen her for a long time" Joseph started. "I really wanted to talk to her (Sandara) immidiately so I can congratulate her. When we saw each other both of us felt shy. She also felt very shy."
" I couldnt really talk to her as much because whenever we do, our friends tease us. They start whispering and teasing jokingly. Im the one who intiated it. I asked everything. I asked how her family is and I asked if her 2ne1 members are nice, and nice to her. Because thre will always be a bit of jealousy in a group no matter what.
"After talking for awhile, it felt okay. Weve bonded a little. The next day, we had plans to hang out somewhere but her schedule was too full and she needs to go back to Korea."
One of the people that was anticipated to come was Hero Angeles. Sandara's first loveteam partner. Why wasnt he able to attend? Was Joseph involved?
"He has a scheduled taping in Tagaytay, so he cant come." says Joseph. "I know that they tried contacting him. And its okay if Hero is there. The issue about the 3 of us has been a long time ago.We live different lives now and we shouldnt feel awkward with each other even if he went to the reunion. Ive also met a few times with Hero and we text each other once in awhile."
The New Sandara
Joseph admitted that when she saw Sandara he still felt giddy (butterflies in his tummy lol!) and their friends started teasing them.
"We went out for 3 years and weve had alot of memories" says the young actor. "Im happy that the SCQ members had a reunion but im more happy because I saw Sandy again whom I havent seen for ages because she is now based in Korea."
Joseph also mentioned that the last time he saw Sandara which was last year, she still didnt have a career in Korea as shes still undergoing training/workshop.
"That was the last update I heard from her and then we lost communication. Thats why im surprised that her hard work has paid off"
What has changed in Sandara?
"Alot! From forehead to foot,really!" answered Joseph. "Hair, head, make-up, her aura its different. She has changed alot, shes now a fashionista. She had a big improvement in dancing. I even joked and said that she can join and dance hiphop with us. She just kept laughing."
"At first, all the news came from my friends or from the TV. Then i searched her on Youtube (HAHA! this guy has hangups eh?!). I even saw the video where she sang "In our out" in one of her guestings in Korea."
You'll Still come Back..
Joseph is very proud that even if Sandara has left and started her career in Korea, she still comes back and visits the Philippines.
"I think its amusing. Even if shes really popular now, she never forgets us. She was given a 3 day vacation. She could have chosen a different country without cameras following her but she still chose the Philippines. Im very proud of her and im definitely a fan." he stated.
Is Sandara aware of your sexy and kissing scene owith Polo Ravales in the movie Walang Kawala?
"I dont know if she knows but i feel shy in informing her personally. The time was short so she probably knows about it or not."
Sandara left very good memories to her friends specially to Joseph. She hasnt changed at all even if shes already so popular and kept it real.
For PEP's last question for Joseph, does he still have feelings for Sandara? Is there still a chance they would get back together?
"Looking at the state of her career right now, im not so sure." He says. "But I'm not going to destroy any possibility. The feelings are still there. Its really different when you see the person. The feelings all come rushing back. For now, whats important is both of us are okay and so are our careers.Whats important is she's okay there and im okay here. If were meant to be, only time will tell." (ugh please!)
He added "Ive come back to ABS-CBN. Im with Tiagong Akyat and some other shows."
Credit(s): PEP.ph + 21evo.com for translations