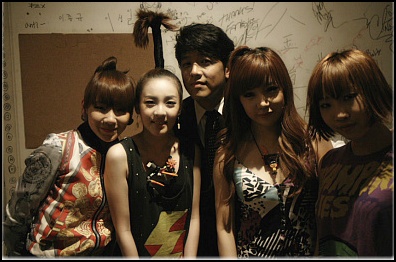 A photo of actor Ryu ShiWon and girlgroup 2NE1 posing together to commemorate the girls' cameo appearance on Ryu's current popular drama 'Style' has been revealed.
Ryu ShiWon uploaded photos of the special 200th issue party for fashion magazine 'Style' in the drama on his minihompy lately.
He wrote, "The filming with 2NE1 whom I like. (2NE1) was totally cool and cute. Really thankful."
Ryu ShiWon also added, "Even though the 30 hours of filming for the party over 2 days was tiring, with the help of the cameo appearance, it was fun. Really thankful to FT Island, 2NE1, 2PM and Bada etc."
Meanwhile the party scene featuring the camero of 2NE1, 2PM, FT Island, Bada and Kang Ji Hwan etc was aired on 16th August.
Source: Kbites