2NE1 Sandara Park is the female idol star Koreans 'wish to eat tonics with during midsummer'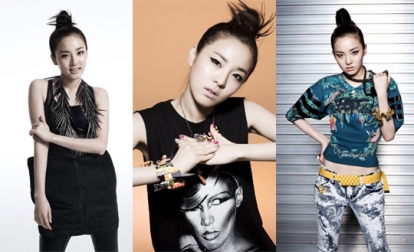 2NE1 member Sandara Park has been chosen to the be the #1 star with whom Koreans want to "eat tonics during midsummer with".
Music portal site Bugs did a survey on netizens about with which promoting female idol group member they "Wish to eat tonics together during midsummer" and Sandara Park came in #1 with 51% of the votes.
Sandara Park's popularity came from that of 2NE1 which she is part of. 2NE1 debuted with the digital single 'Lollipop' in March and then went on to release 2 other hits 'Fire' in May and 'I Don't Care' in July, and they are said to be one of the best hit maker girlgroups for the year.
The rest of the survey results:
2NE1 Sandara Park
KARA Goo Hara
Brown Eyed Girls GaIn
4Minute HyunA
After School GaHee
T-ara EunJung
[Koreans believe to eat tonics like ginseng chicken during midsummer when it is the hottest, fighting the heat with heat]
Additional: Meanwhile, bmembers have been said to have taken a 4-5 days break from 12th August. Sandara Park has flown back to the Philippines, Park Bom to the States, CL to Japan and MinJi to visit her grandmother. YG said to give then well deserved break off from promoting the pass 3 months.
Credit(s): Sookyeong
_________________
[center]
www.twitter.com/Sheng07
[/center]