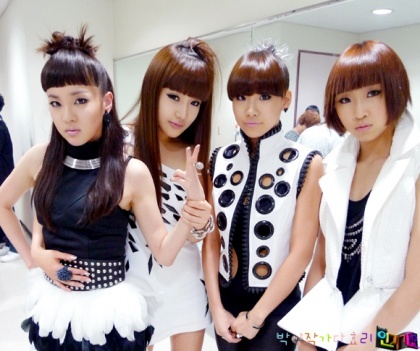 'Scary newcomer' 2NE1's 'I Don't Care' has won the award of the 'Song of the Month' on Cyworld Digital Music Awards (DMA) with one of best album sales, renewing the record set by group Big Bang.
Big Bang had won the 'Song of The Month' with their previous hit 'Haru Haru' and now 2NE1 is back to renew the record set by their seonbae.
Also 2NE1 has received the honours of the highest winning records this year – winning awards with 'Lollipop' for the 34th DMA, and also 2 awards with 'Fire' on the 35th DMA, and this month they won again with 'I Don't Care'.
Not only so, 2NE1 is taking music charts and music shows countdown by storm. 'I Don't Care' has so far won #1 for 3 weeks through on KBS Music Bank, #1 on SBS Inkigayo for 2 weeks through, and also a #1 on Mnet M!Countdown. Also they have sold over 70K copies of their 1st minialbum up till now.
Even though we have many singers and seonbae coming back to release their album recently, 2NE1 continues to sell about 1K album copies per day.
Meanwhile, 2NE1 did the telerecording for SBS 'Kim JungEun's Chocoloate' on 5th August and will be attending the DMA ceremony coming 20th August.
Source: Posted by Sookyeon in Kbites