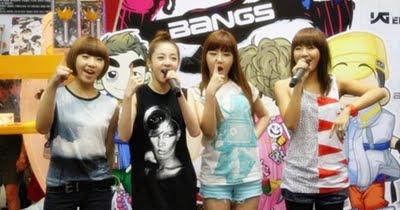 In Korea, the song genre "Ballad" has literally disappeared from sight. Instead dance music has been dominating the kpop industry especially this summer.
Ballads have long disappeared from music charts and record sales charts. Music sites such as melons, Mnet, Bugs top 20 ranked songs have only 2 ballads. The same goes for sales. Aggregate sales as seen in Hanteo album charts has been dominated by 2NE1, Drunken Tiger, Epik high, MC Mong, FT Island, Brown Eyed Girls and Girls' Generation.
This phenomenon has been continuing since the beginning of the year. This year, the popular genre of music is hiphop and dance music. Popular songs in 2009 include So Nyeo Shi Dae's "Gee" and "Tell Me Your Wish", Davichi's "8282″, Super Junior's "Sorry Sorry", Big Bang & 2NE1's "Lollipop", 2NE1's "Fire" and "I Don't Care", MC Mong's "Indian Boy" and Outsider's "Alone".
Even Ballad Queen Baek Ji Young is following the trend and is slated to comeback this summer with a dance music album.
The reason hiphop and dance music is popular nowadays is because of the colourful visuals and exciting performance portrayed, which is perfect for the summer and pleasing to the ears and eyes of the audience. However, not to worry, as Autumn and Winter approaches, ballads are expected to return.
Source: daily k pop news; Kimchilicious
Posted by: minsarang on daily k pop news