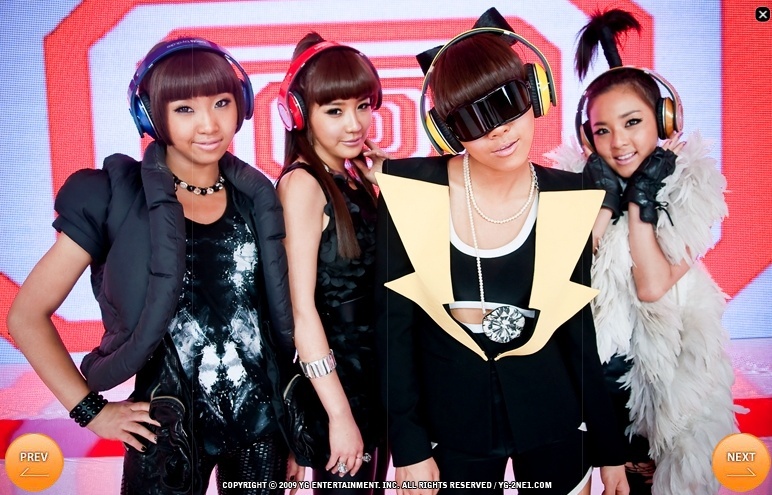 Is there any other group that can be a better topic maker than them before debut? 2NE1 has attracted many attention and topics due to the deeds like the collaboration with Big Bang in a CM song that has been topping the online music charts for weeks, they has showed their debut stage in SBS Inkigayo on 17th, and officially made their challenge in the music industry.
2NE1 which is composed of CL (18), Sandara Park (25), Park Bom (25), Minzy (15) has released their debut song "FIRE", and has presented a different style of music and appearance from typical group to the fans. Without the makeup, they have the pure look compare to when they were on stage, it's very childish.
# The perspective of affirming and disaffirming "Female Big Bang"!
Before the debut of 2NE1, they have decided to throw off the active broadcasting activities, and only bring one high completion/perfect performance per week to meet with the fans. Before confirmation of the name of group 2NE1, they have been labelled with "Female Big Bang" and thus becoming a hot issue, either after their first stage performance or before their debut, they are always being the hot topic.
The compliments about their stage performance such as "shining with the charisma that doesn't look like a rookie", "the charming performance that shows off a different feeling from the typical idol girl group" are the affirmation. While as for the disaffirmation, they had been given a 6 minutes long performance even though they are a rookie group, that was a special treatment compare to the others that had only 2~3 minutes stage performance, and hence this has attracted negative sight.
2NE1 was neither happy nor sad about these, but they continue to keep working on what they should do prudently. CL mentioned: "After the first stage performance, we feel that there are many regrets. We have already tried our best, but due to the lacking of stage experiences, many problems have risen like the unskillful way of holding a mic. We wanted to present a more enjoyable look, but we couldn't show off everything due to the nerves. We will work harder in the future in order to keep up the expectation from everybody."
About the great attention they received before their debut, CL said: "Although there is pressure, but it still has the positive side. It's not a bad thing to show our excellent look as a return to those concerns. We are under the same company as Big Bang sunbae and that might be the reason of being labelled as "Female Big Bang", but that's also like becoming a VIP, isn't? Therefore, we are very grateful about it too."
Sandara Park added, "There isn't anything that is as honour as being someone like Big Bang."
# I still want to become a singer after I reborn!
Recently, most of the members of idol groups had experienced a nearly 10 years time of trainee life before making their officially debut. Just having the faith of "must become a singer" within the 10 years time, but it is not easy to hold on to it. However, 2NE1 who also had their trainee period said that they will still choose the pathway to become a singer even they have to reborn; they make their dream comes true after experiencing the trainee life, thus they think that they are blessed.
When they are giving advices to their juniors who are also having the dream to become singer, 2NE1 said: "Must have faith in your own dream and work hard, wait for the right opportunity and your dream will come true".
Of course there will be depressed sometimes. CL mentioned: "If practice continuously, sometimes I will feel depressed, but since that is the thing that I like, so I never think of giving up". While Sandara Park said: "The moment that I really feel like giving up was the moment that my strength suddenly stopped improving for a long period time. Other members can handle that situation well, and taught me the way to stay strong, so I had got over that."
Park Bom said: "After the long trainee life, I have prepared for solo before, and then get merged with the group members. After all these, I had the moment of getting tired of all the waiting before." While Minzy said: "My vocal is kinda constrained, I feel so painful when I thought that "I can't sing". Thus, I have undergone harsh vocal practices."
The 94-er Minzy is now preparing for exam. Carrying the both high school life and trainee life at the same time, but no matter how she still want to focus more on training and choose to leave the school. This is not an easy selection, but she confidently said: "I choose that because it is the thing that I like, I won't regret." CL was looking at this Minzy, and praised the maknae: "She has been reading a lot of books. Lyrics writing, composing, that's surprising."
# Neutral feel is what we want!
The music and style of 2NE1 is emitting the charm of neutral. About this, 2NE1 laughed and said: "It's very thankful that you can see us as that."
CL said: "We usually like the music from male singers, and also hiphop, that's why there are such elements in our music. We also like the man's brands of clothing very much, it has already reached the level that whoever saw us will say that we are the four guys. The preparation of debut album is also for making the music that can let us present ourselves better.
# There are a lot that we want to learn from WG, SNSD!"
Not only accepting many advices from Big Bang, as for WG, SNSD who has set off the girl group wave since last year till this year, we see them as the seniors that we have many things to learn from even though their music is totally different from ours.
We have learned from Big Bang about their daily life practices, and also their style on stage. We want to learn their sincerity when we saw them still keep practicing till the midnight, and we have also remembered their every movements and facial expressions when they were on the stage.
They look like a bunch of lively girls, but when talk about the dream and the planning of music, they have the stronger determination and heart than anyone else, and making people feel that their hidden talents are about to burst. Compare to the best rookie of the year, they are more anticipating to have their own concert, the excitement and positive force toward this dream has gave them the determination to start the new evolution of hiphop girl group. Let us look forward to them who are about to flip their wings and enjoy flying toward the sky.
CREDITS:
News source: Osen/21.Impact
Translation: ming^ming@ygsecret21.com (chi to eng)05