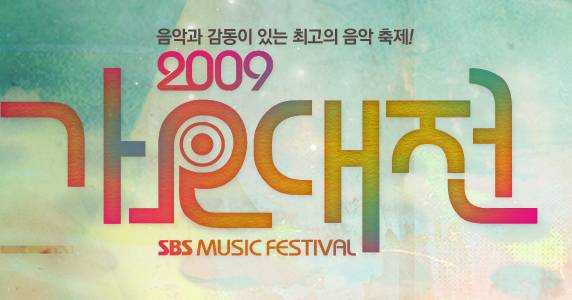 SBS Gayo Daejunís HOT lineup revealed
This years SBS Gayo Daejun is going to be extremely HOT with performances galore! With all the hot new rookie groups in 2009, it's certainly going to be a breath of fresh air.
Stay tuned to allkpop as we will be providing full coverage of all of the year end award shows.
The lineup has just been revealed, check it out!
Solo Artists:
*Baek Ji Young - Like Being Hit by a Bullet (dance version) and My earís candy (feat. 2PMís Taecyeon)
*GDragon - Heartbreaker, Korean Dream (feat. Taeyang) and Hello (feat. Sandara Park)
*JYP- Honey, She is Pretty, No love No more and Special Performance
*Kim Tae Woo Ė Love Snow (feat. Slime)
*Lee Seung Gi Ė Will You Marry Me and Letís Break Up
*Son Dambi - Crazy, Saturday Night and After School Joint Performance
*Taeyang - Wedding dress, Where u at and Special Performance
*Younha - Password 486 and 1,2,3
Girl Groups:
*2NE1 - Fire, I Donít Care and Letís go party
*4Minute - Hot issue, Muzik and Special Performance
*After School - Diva and Because of You
*Brown Eyed Girls - Abracadabra, Sign and Special Performance
*Davichi - 8282 and I made an accident
*f(x) Ė LA chA tA and Chu ~ ♡
*Jewelry - Vari2ty and Love story
*KARA - Honey, Wanna, Mister and Special Performance
*SNSD - Gee, Tell Me Your Wish (Genie) and Special Performance
*T-ara - Lies and Bo Peep Bo Peep
Boy Bands:
*2AM - This Song, Friendís Confession and Special Performance
*2PM - I Hate You, Again & Again, Heartbeat and Acrobatic Performance
*Beast - Bad Girl, Mystery and Special Performance
*MBLAQ - Oh Yeah, G.O.O.D Luv and Special Performance
*SHINee - Amigo, Ring Ding Dong, JoJo and Special Performance
*Super Junior - Sorry Sorry and Itís You and Special Performance
Special Stage:
*8090 Legend Stage featuring: Super Junior + 2PM + SNSD + 2NE1 + T-ara
*Dance Stage featuring: KARA Nicole + 4minute HyunA + SNSD Hyoyeon + After School Gahee + Jewelry Ha Jooyeon + 2NE1 Minzy
*Lee Moon Sae Stage featuring: SHINee Jonghyun + Super Junior Kyuhyun + Kim Tae Woo + Baek Ji Young
*Lee Seung Chul Stage featuring: SNSD + Davichi + Seo In Young
*Special Change Stage featuring: Brown Eyed Girls + KARA + 4Minute + SNSD
*Special Joint Stage featuring: Baek Ji Young + Lee Seung Gi + Kim Tae Woo + Son Dambi
*Trot joint stage featuring: Park Hyun Bin + Jang Yoon Jung + Song Dae Kwan
*Wonder Girls overseas video message
Boy Band message:
Girl Group message: